There has never been a better time to become a professional filmmaker.
More Career Opportunities than Ever
Film production is happening everywhere. But unlike the old days, when you had to spend years starting from the bottom as an assistant and working your way up to where you wanted to be, today you can start your career where you want.
Today, you can produce the same quality productions yourself that used to require a crew of 50 people and hundreds of thousands of dollars. Professional lighting, audio, and camera equipment is more affordable than ever, and post-production tools give you the same tools as major Hollywood studios.
You can become a director of photography without having to spends decades working you way through the camera department.  You can shoot your own movies without having to deal with studio politics.
It's an amazing time we live in!  And, while you're working on your own productions, you can make a lot of money shooting TV commercials, real estate videos, weddings, and marketing videos.
When I first started, I shot and directed productions for dozens of huge companies, which helped me make a lot of money I then used to invest in gear.  The time has never been better to jump into the media industry, because brands are spending more and more money on video content than ever before.
Over 12 billion dollars has been spent on film and video production this year alone, with nearly 14 billion forecast for next year. Companies of all sizes are hiring filmmakers to produce marketing and entertainment-based content. Companies and organizations are spending millions of dollars on media content to reach potential customers through social media and many of them are in need of fresh professional content. And I'm not talking about boring talking head videos, but entertainment-driven content.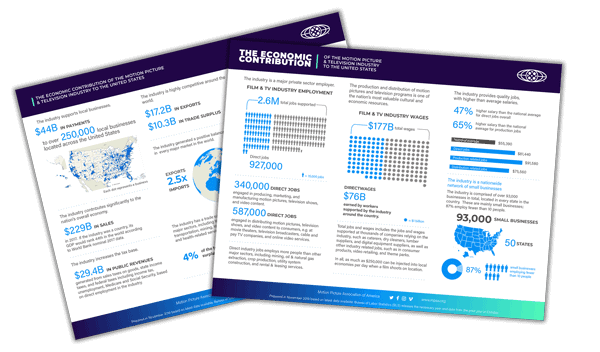 The Motion Picture Association released a report on the economic contribution of the Motion Picture and Television industry to the United States.
This report was compiled using data from the Bureau of Labor Statistics.
First, be prepared to invest some time and money into your career. For starters, you will need to invest in some equipment – including cameras, lighting, and heading equipment.
Secondly, take the time to practice your craft. Shoot every chance you get, and focus on building a strong demo reel. If you remember earlier when I mentioned your stock value, you are only as good as your previous work – so practice, practice, practice.
Next, good work leads to more work. Once you have a strong demo reel, take it to a local company, contact the local musician, or reach out to local writers and actors and volunteer to shoot for them. A lot of people say that you should never work for free, but that is simply not true. Because work leads to more work, you need to start somewhere, and offering your services for free will lead to pay jobs.
When I first got started, I invested some time and money to produce two spec commercials for free. I wrote the script, cast the actors, and shot everything myself. These two commercials which together cost less than $5000 to make, helped me land some of the biggest productions of my career, including a national commercial with a $1.2 million budget that I earned over $10,000 per day as director. Had I not shot those two commercials on my own, I never would've gotten that production. And, that project lead to several more including a feature film I coproduced and shot along with the Emmy award-winning executive producer of Everybody loves Raymond. And by the way, I will take you behind the scenes to show you every step of how we produced that commercial, so you will have access to our script, storyboards, and the entire production process.
I hear from a lot of young filmmakers that you should never work for free, but That is why many of them are still struggling.
I attribute success to a triangle – first, you have to have original creativity to bring to the table. What separates you from the competition? Why is your work different? Find your creative voice and style that is yours, and yours alone.
But just having a creative vision isn't enough. You also need to master the tools. And tools are relative to each job. For a screenwriter, it's understanding story structure, how to build characters, and how to write amazing dialog. For cinematographer, it's understanding light, lens, and the camera. For a director it's understanding the language of actors and the visual methods of storytelling. For an editor, it's understanding story flow, continuity, and editing software. Learn your tools, and continuously practice them so every project is better than the last.
And the third point of the triangle is learning to market yourself. You have to have the business sense to be able to market your skills. We live in an age with amazing social media, and sophisticated techniques to reach potential clients and audiences like never before. I will show you how to build a social media presence, market your skills and your productions, so that you can build a career out of it. Yes, it's great to be creative but we are in an industry and you are the product. I along with over 100 successful Hollywood show makers will teach you the skills you need to market yourself.
Remember that filmmaking is not a solitary activity. It involves a lot of people, and the more hands you shake, the more money you make.
Explore Your Career Opportunities