We have been fastidious in our design of FilmSkills Academic. Every tool, control, and panel has been completely reimagined to optimize the experience for both instructor and student.
Author beautifully-immersive lessons to delight your students. With full support for streaming video, illustrated articles, test questions, projects, downloadable files, and web links, each lesson is a self-contained learning object that can be mixed and matched with other lessons to create your master classes.
FilmSkills is jam-packed with powerful authoring tools to take your training well beyond the typical YouTube Video and PDF download.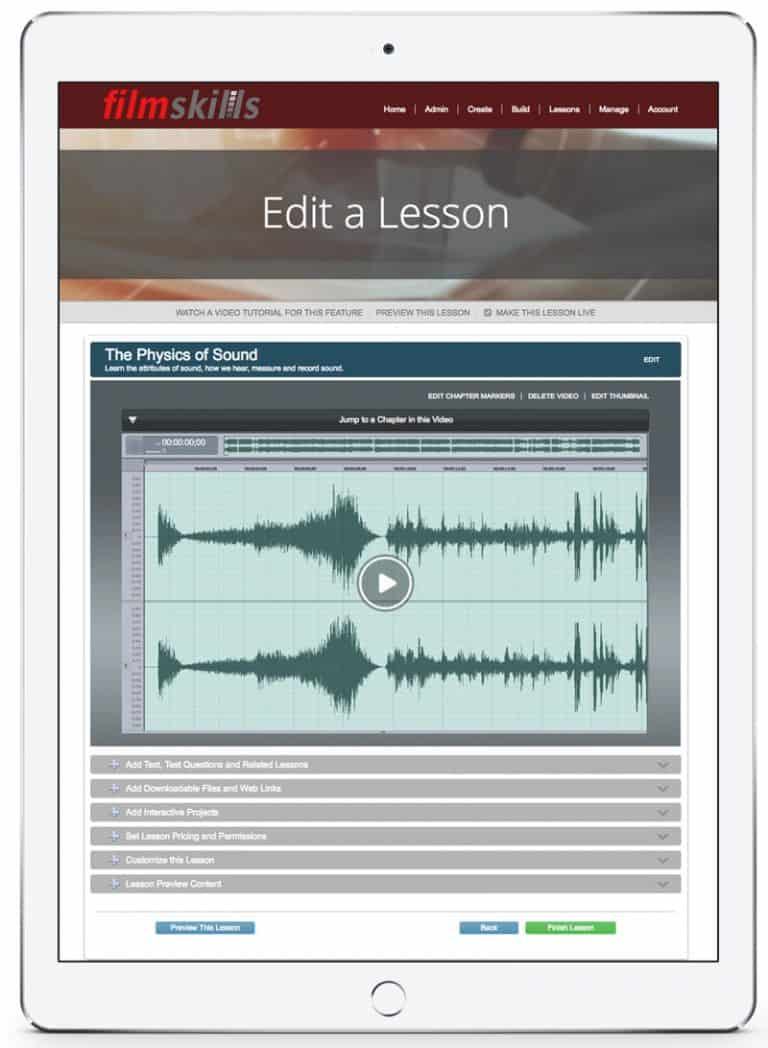 Your school's brand is important, which is why flexible new tools let you easily brand your online academy with your own logos, colors, images, and fonts. With our innovative new WYSIWYG visual editor, you don't need to know any coding. Plus, you can map your academy to your own URL so students will have a completely branded experience on your website.
Self-Guided, Auto-Managed
FilmSkills Courses are completely self-guided and require little-to no instructor interaction.  Students can join any time, and can learn anytime, anywhere. Simply choose your lessons, add tests and projects, set-up the certificate of completion, and invite your students.
Tools to Manage the Classroom
Engineered to provide flexible classroom management, FilmSkills Classes support live training that coincides with your live classes. Simply choose your lessons, name your class, and a enjoy the suite of tools at your fingertips.
Create Stunning
Certification Programs
Certification is a powerful, proven method to motivate your students to achieve, all while adding value to your online curriculum. Create, manage, and administer your certifications with ease and efficiency.
Manage your student roster with ease
Whether you have 10 or 10,000 students, the FilmSkills Student Manager makes it easy to batch create student accounts, group and organize them, and auto-enroll students into your classes and courses.
Sign up for a
FREE
7-Day Trial
Choose any 3 courses and experience FilmSkills as a student.